Software Solutions

Are you a show jumping judge? If so, Jumper Judge Dashboard (JJD) can make the judging process much easier and more organized to help you better perform your roles of judge, time-keeper, and announcer.
JJD was designed and developed by a "R" USEF jumper judge who is also a software industry veteran with over 30 years of experience in application design and development. With its intuitive, modern design and well thought-out user experience, JJD will become an indispensable part of your role as a jumper judge (overview video here). Click here read about the most recent updates to JJD.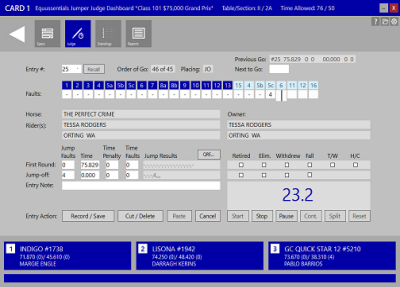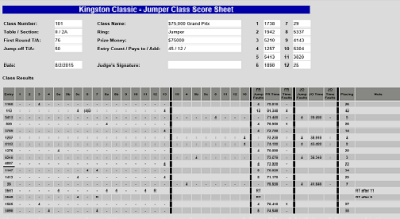 Click on images to enlarge.
Training Videos
Click here to view our training videos for Jumper Judge Dashboard version 4.
Feature List
Modern, intuitive interface provides an ideal user experience
Runs on Windows 7, 8, 8.1 or 10 (Windows 10 is recommended)
Support for USEF Table II, III, and IV, Sections CR, 1, 2A, 2B, 2AB, 2C, and Gambler's Choice
Automatically keeps track of placings so no need to keep a stagger sheet
Excellent support for judging multiple classes/cards at the same time (example here)
Interfaces with FarmTek's Polaris Timer (requires this cable ) to capture times when a round ends
Includes a built-in backup stopwatch and optional countdown timer
Provides quick access to PDF copies of the USEF, Equine Canada, Australian and FEI rulebooks
Setting of the course jump numbers is quick and easy
Supports setting of classes/cards ahead of the class start if the course is known
Interfaces with horseshowtime and other show management systems to provide electronic class list and horse/rider/owner information
Interfaces with Show Management System to obtain class entry information from the web
Interfaces with ShowGroundsLive to obtain class entry information and post results to the web
Results (score sheet and standings) are written to an HTML file for viewing and printing
Class results can be immediately posted to the internet (example here)
Provides complete data backup and protection with continuous backup on up to two drives (Ex. hard drive and USB stick or Cloud drive)
Calculates championship points for a division (example here)
Includes optional scoreboard output for use with LCD or plasma displays (example here)
EXTRA: Here is a handy abbreviated scoresheet
Facebook Page

Click to go to our Facebook page.
Download/Install
JJD is available on a 15-day trial basis. Just go here to download and install JJD.
After trying out JJD, use one of the the PayPal Subscribe buttons below to purchase a license. After completing the subscription process in PayPal, click here for next steps.
Monthy Subscription - $15 USD
Annual Subscription - $159 USD