Products
Jump Cups & Keyhole Tracks
We have metal keyhole tracks, metal and plastic keyhole jump cups, and metal pinned jump cups available. We also can supply you with FEI-approved breakaway cups, a requirement on the back rail of all oxers at USEF shows.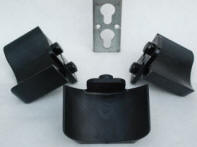 Please click here for more information on our tracks and cups.
Click here to request a quote for tracks and cups.
NOTE: We are based in the USA so shipping to foreign countries may be very expensive due to the weight of the metal keyhole tracks and cups.
Jumps Standards
All our jump standards are built with keyhole tracks. We also have a schooling standard available. Click here to see some standards we have available for sale now.
Timer Console Stand
Hand-made with Poplar wood, our timer console stand is specifically designed for the Farmtek Polaris timer. Price: $35 (includes shipping)


Tack Trunk
Our beautiful tack trunk is a design that utilizes tight-knot cedar tongue-n-groove. It can be stained to a variety of colors and includes a tack box. Our tack trunk design was inspired by the beautiful barns from Barn Pros. Price: $399 + shipping


Mounting Block
Our mounting block is designed for versatility and safety. It's three platform configuration is very useful for deailing with horses that may not be the most well-mannered when you're trying to mount.